Yesterday John Poland and I  (with the help of other invaluable souls) shot another video. Our third. This one is called Beautiful Rain.
As you can imagine with a title like that, the video involved some rain. It was a tough shoot. Not very much went according to our simple plans.  On paper it was very straightforward: There are just two verses in this song, with a small instrumental bit in between.
The idea for the video was this:
1. We see rain.
2. JP sings the first verse while standing in the rain.
3. Gorilla sees JP, casts off his umbrella and begins dancing in the rain.
4. JP sings the 2nd verse while standing in the rain, turning in circles.
That, more or less was the plan. We even had a little actual rain, which was nice. But we knew we would need a little more rain no matter what, so we were prepared with a hose with suitable sprinkler attachment.
We did some practice takes, with rainwear, but only when JP removed his protective clothing and began singing under the falldown did it become apparent that it was too damn cold!
Unfortunately, in the spot we were filming we were unable to run some hot water through a hose, otherwise it probably might have been doable. But within a minute-or-so it was obvious this idea would have to be scrapped.
Take a look at a wet JP: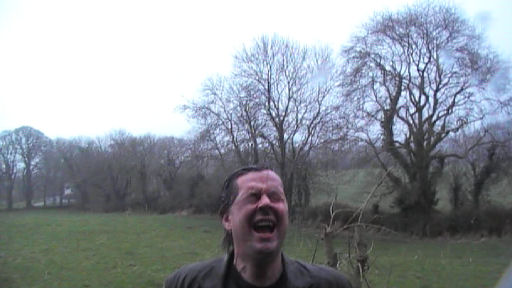 "SMILE JOHN!"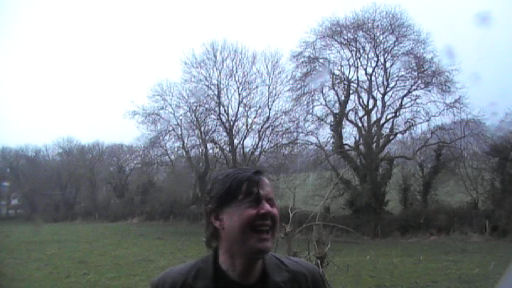 "SING THE WORDS JOHN!"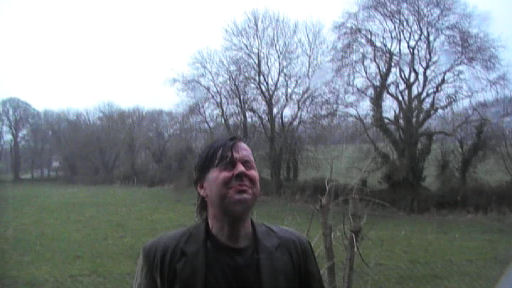 "LOOK UP INTO THE RAIN JOHN!"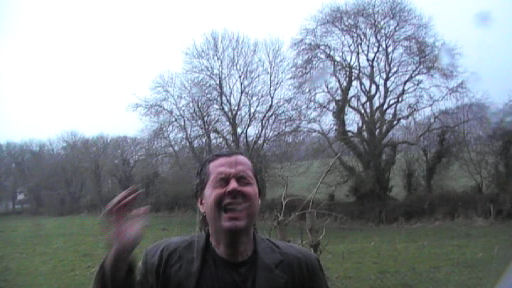 "DON'T RAISE YOUR HAND!"  "OPEN YOUR EYES!"  "SMILE!"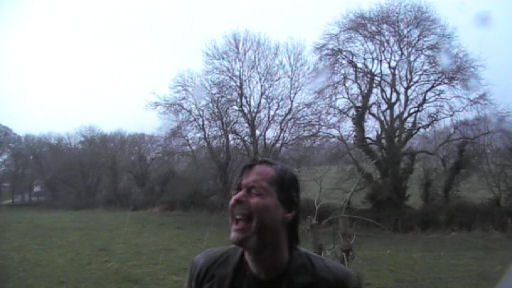 "KEEP FACING FORWARD! SMILE! SMILE YA BASTARD! SMILE INTO THE BEAUTIFUL RAIN!!"
.
As you can imagine, I didn't have it easy. Nothing I did or said could make it possible for JP to do it.
Anyway, initially we thought the day was a washout if you pardon the pun, but after thinking about it some more we came up with other ways of doing things. We made some compromises and added some alternative shots. That's what happens with filming all the time, no doubt.
The important thing is WE WERE NOT BEATEN! We got the shots we needed -well almost all. We just need a teensy bit more -but we're waiting for the right time to shoot.
Fear not -you will see the final video on here first, so keep checking back throughout the week to see how it looks. And did I mention the song is very nice indeed? Wait til you hear it -another great tune for our forthcoming Happiness Album !